The 4th Music for the Brain Concert and Conference took place on Saturday 25 November 2023 at the Institut Culturel Bernard Magrez, in Bordeaux. This new edition will be dedicated to supporting the launch of the

Precision & Global Vascular Brain Health Institute

. A unique international centre of excellence entirely dedicated to vascular brain health, the Institute is a pioneer in the fight against the most common neurological diseases: stroke and dementia.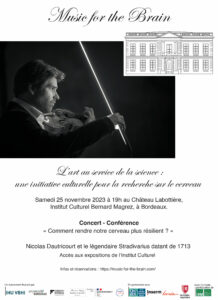 The concert-conference "How to make our brains more resilient" has been organised by the University of Bordeaux, the Fondation Bordeaux Université with the support of the Institut culturel Bernard Magrez. Proceeds from the event will contribute to funding cutting-edge research activities at the Institute for the Prevention of Cerebrovascular Diseases.
The research activity of this Institute is both deeply integrated in its local area and very open to international developments. Its researchers maintain close, long-standing collaborations with leading foreign institutions, including Munich's LMU University, a privileged partner of the University of Bordeaux, whose presidential delegation we had the honour of welcoming.
The concert, entitled "Carte blanche à Nicolas Dautricourt", have been led by Claire-Marie Le Guay (piano) and Nicolas Dautricourt (violin) with his Quartet.
Nicolas Dautricourt, violinist, introduced the legendary "Château Fombrauge" Stradivarius dating from 1713, a generous loan from Mr Bernard Magrez.
This 4th edition of Music for the Brain, a philanthropic cultural event par excellence, offered a rich and varied programme. Two exhibitions were on show throughout the event:
Exhibition "Cimes et Ciment", Galerie de l'Institut Culturel Bernard Magrez
The contemporary art exhibition "Beauty will save the world", Château Labottière
7:00 pm – Welcome and introductory speeches, Pavillon de la Boétie
Mr. Fabrice Guez, Corporate Subsidiaries Manager, Bernard Magrez Cultural Institute
Mr. Dean Lewis, President, University of Bordeaux
Mr. Bernd Huber, President, Ludwig-Maximilian University Munich
Ms. Céline Papin, Deputy Mayor responsible for territorial, European and international cooperation, higher education and research, Bordeaux City Council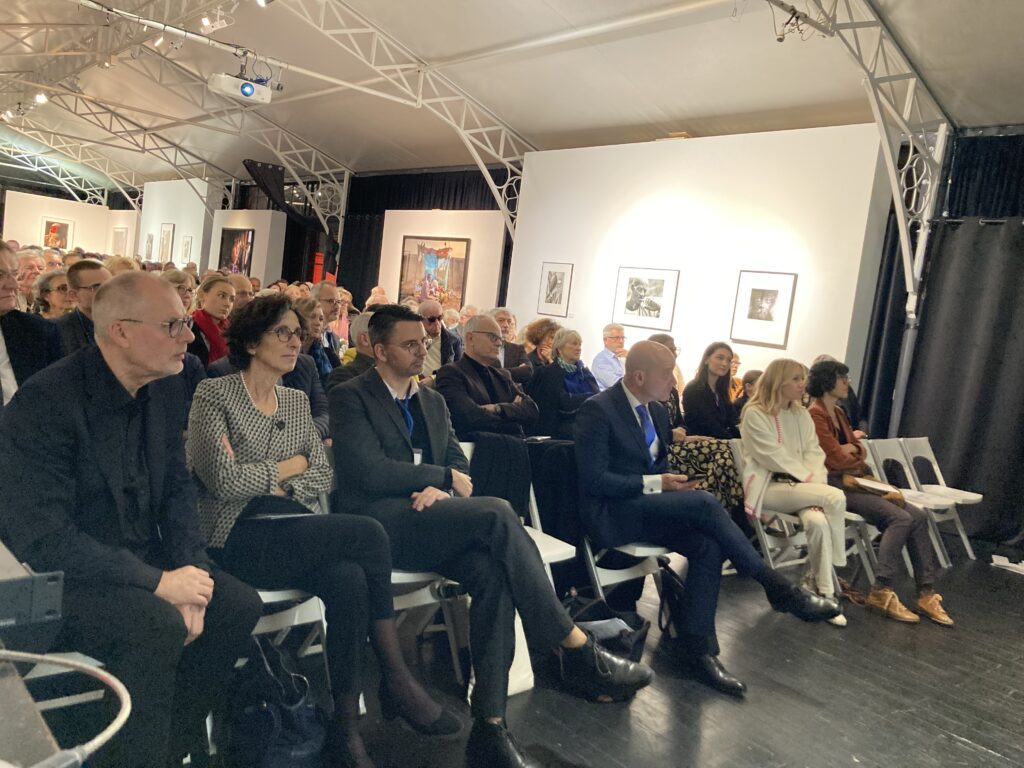 7:10 pm – Conference "How to make our brains more resilient", Pavillon de la Boétie
7:40 pm – Part 1 – Concert "Carte blanche à Nicolas Dautricourt", Claire-Marie Le Guay (piano) and Nicolas Dautricourt (violon), Pavillon de la Boétie
3 romances op.94 for violin and piano, Robert Schumann / Sonate en la majeur for violin and piano, César Franck

8:40 pm – Intermission and aperitif break, Ground floor of Château Labottière
9:00 pm – Part 2 – Concert of Nicolas Dautricourt quartet, Nicolas Dautricourt (violon), Rafael Mejia (drums), Jean-François Durez (piano), Philippe Aerts (bass), Pavillon de la Boétie

9:30 pm – Cocktail reception, Ground floor of Château Labottière
Location and access:
Institut Culturel Bernard Magrez, 16 rue de Tivoli 33000 Bordeaux
By car Parking Beaujon, Impasse des cossus (2 min walk)
By bus Line 56 Express – Line 5 – Line 6 – Line 29
By bike Cycle parking available inside the Château and VCUB Tivoli station opposite the entrance (10 min from the  Grand Théâtre)
By tramway Line C: Camille Godard stop (15 min walk) – Line D: Barrière du Médoc stop (5 min walk)