The inaugural concert from Music for The Brain was held on January 22, 2015 at the Chateau Labottière, Institut Culturel Bernard Magrez, in Bordeaux. The inaugural concert of Music for the Brain was very well received and attracted a large audience.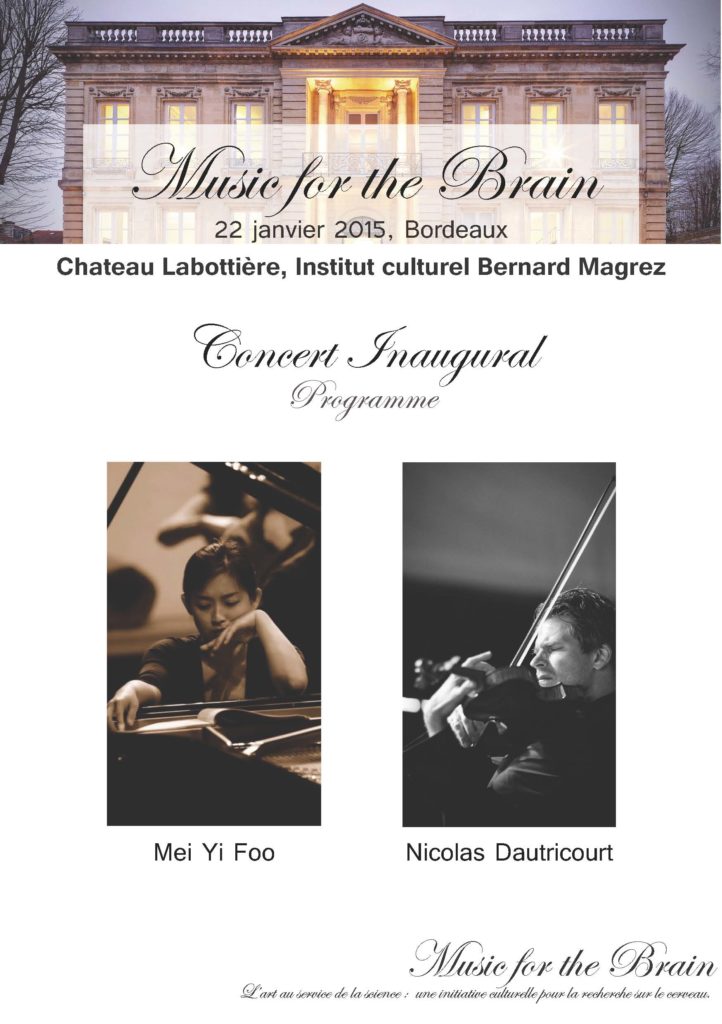 At this event, Nicolas Dautricourt, one of the most brilliant French violinists of his generation, and Mei Yi Foo , a Japanese pianist who won numerous international competitions, played a very rich music repertoire together. On this occasion the public had the pleasure of discovering the unique sound of the legendary 1713 Stradivarius violin, a generous loan from Mr. Bernard Magrez.
This concert was preceded by a short public lecture by Prof. Stéphanie Debette (neurologist and epidemiologist, founder of Music for the Brain) on research project carried out at the University of Bordeaux on brain ageing. The initiative was also supported by short speeches by Prof. Manuel Tunon de Lara, president of the University of Bordeaux and Mr. Thomas Wolf, Consul of the United States in Bordeaux, as a result of the collaborative dimension of the research projects.
Music program
Antonin Dvorák, Four Romantic pieces op. 75
Johannes Brahms (Joseph Joachim), three Hungarian dances
Giuseppe Tartini, Devil's Trill sonata
Camille Saint-Saëns, Havanaise
York Bowen, Three Preludes No. 21, 6, 7 Op. 102
Josef Suk, Four-piece op. 17
George Gershwin (Jascha Heifetz), Summertime and a Woman is a sometimes Thing – It Ain't Necessarily So – Tempo di Blues