This third Concert-Conference took place on April 10, 2018 in Tokyo, "Maison Franco – Japonaise" auditorium.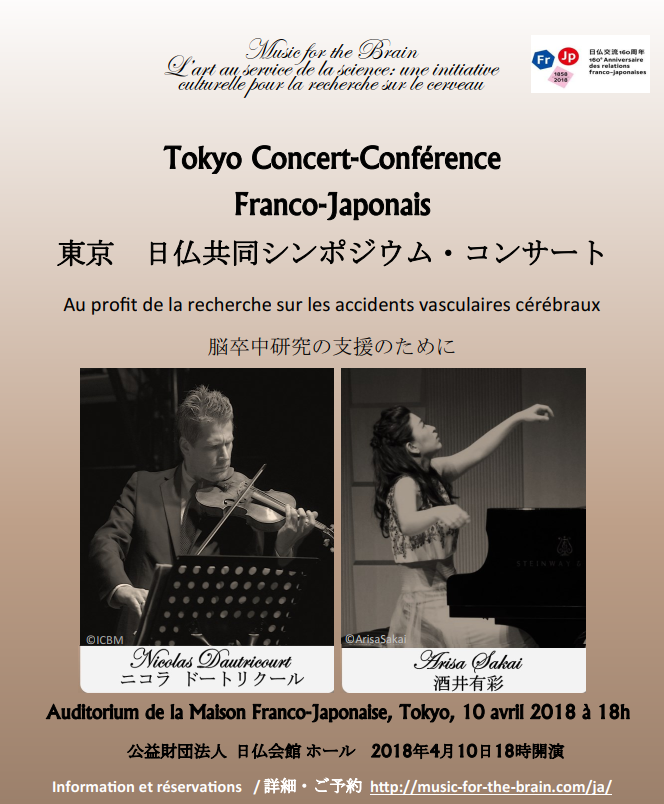 This cultural Music for the Brain event was a philanthropic concert featuring two internationally renowned artists: Nicolas Dautricourt, one of the most brilliant French violinists of his generation, playing on a legendary Stradivarius violin of 1713, a generous loan from Bernard Magrez, and Arisa Sakai, Japanese pianist laureate of numerous international competitions, having participated in the CHANEL Pygmalion Days 2015.
The concert was preceded by a short introductory conference presenting the main research activities conducted commonly by the universities of Kyoto and Bordeaux, co-organisers of this event, scientific projects carried out in close collaboration with McGill University in Canada and the International Stroke Genetics Consortium.
The benefits of the concert were intended for French-Japanese research on the "healthy brain ageing" and especially the prevention of stroke.
This event was organized jointly with the 23rd workshop of the International Stroke Genetics Consortium that will be hosted at the University of Kyoto on April 12-13, 2018, in collaboration with the University of Bordeaux and several leading international experts on the genetics of stroke.
Program of the concert-conference:
6.00-6.30 pm Presentation of the Music for the Brain initiative
6.30-8.30 pm Concert – Nicolas Dautricourt/Arisa Sakai performing the following program:
Johannes Brahms, Scherzo in C Minor from F.A.E. Sonata
Ernest Chausson, Poème op. 25
Sergei Prokofiev, Violin Sonata No.2 in D major
Toru Takemitsu, Hika
César Franck, Sonata in A major